Where to Stay in Madrid: A Local's Guide to the City's Neighborhoods
Deciding where to stay in Madrid can be challenging. The city occupies a curious place in the average traveler's mind. Madrid is a sprawling, multicultural city that attracts people from all over Spain and abroad. That means for anyone visiting Madrid for a holiday, you have a wealth of options when choosing where to stay.
It's a city whose name everyone immediately recognizes, but unlike mega-famous European metropolises such as London, Paris, or Rome, no major monument and no iconic cityscape comes to mind. That shouldn't put you off.
This article may contain compensated links. Please read the disclaimer for more info.
Here is a round-up of some of the best neighborhoods to stay in if you want to get to know the Spanish capital.
The city is divided into 21 distritos (districts) or 128 barrios (neighborhoods) and that gives you an idea of its size and variety.
Where to stay in Madrid – Las Letras
We are going to start with Las Letras, a neighborhood in the El Centro district.
In Spanish, studying "letras" is often used to mean studying "arts", and so you can imagine that Barrio de Las Letras is a neighborhood steeped in literature and drama.
There are many Calles de Cervantes in Spain, but Madrid is the only one that can claim to be the last house in which the author of Don Quixote lived.
Around the same time, in the seventeenth century, Las Letras became the home to Madrid's first theatres, and the legacy of that movement can be seen today as Las Letras lays claim to being the city's theatre district.
Why stay in Las Letras?
The area has retained its pull for creative types. There's an unmistakably relaxed atmosphere with tapas bars and taverns lining the streets, along with independent shops and boutiques.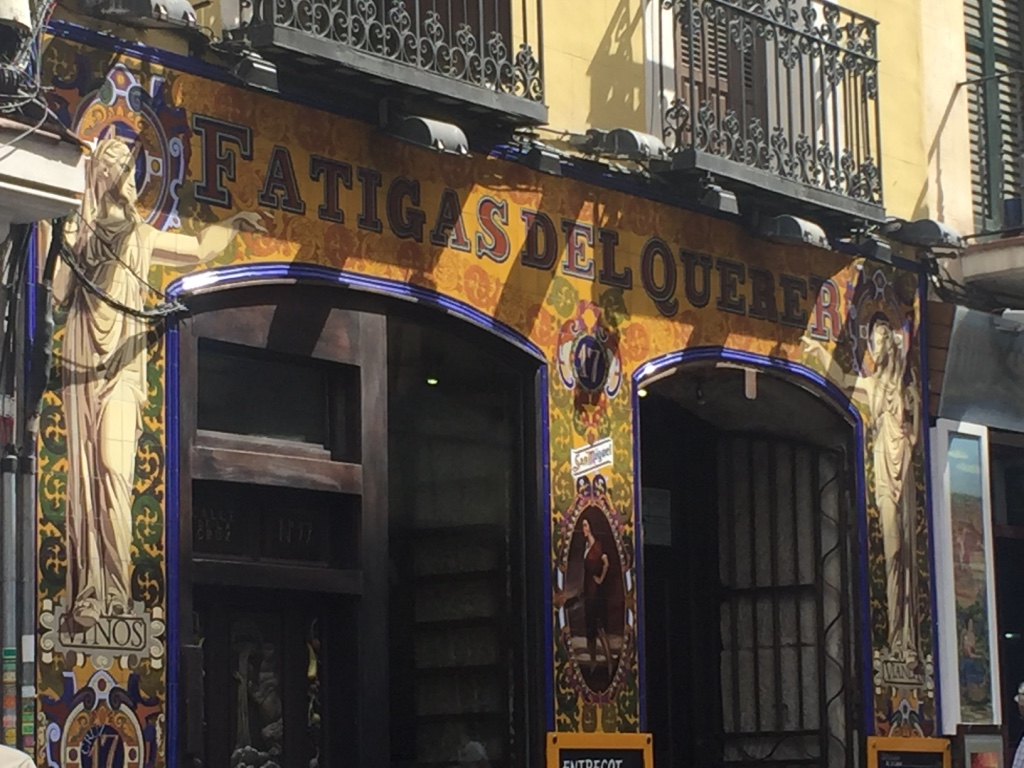 It's a great location for people-watching, or simply playing the local during your break. A major plus for visitors is how centrally located it is. That means that all the typical tourist attractions close to Puerta del Sol are at hand.
The one Madrid tourist attraction that everyone has heard of is the Museo del Prado, and it is a short walking distance from Las Letras.
One of the most important art museums in the world, it houses works from the 12th to the early 20th century.
For fans of Goya or Velázquez, it is an absolute must. There are also notable works by El Greco, Rubens, and Titian.
Now, a confession. I am something of a 20th-century art fan, and so I actually prefer the Reina Sofia museum, located just down the Paseo del Prado in Calle de Santa Isabel.
This museum takes the baton from El Prado, showcasing some stunning works of contemporary art from the last century.
Being a Spanish museum, it is suitably dominated by the two artistic giants of the twentieth century: Dalí (dah-LEE) and Picasso.
Dalí's "The Great Masturbator" and Picasso's "Guernica" are the museum's two show-stoppers.
Just to the east of the museums is the Parque del Retiro. Here, "retiro" has nothing to do with retirement, the name actually refers to the park being a pleasant "retreat" from the city.
It was pleasant enough for it to be of the exclusive use of the royal family until the 19th century. Today, we mere mortals can visit the park and enjoy some welcome greenery and oxygen.
Just a few blocks north of Las Letras you can find Gran Vía, arguably the city's most famous thoroughfare.
Lined with many modern retail outlets in its historic buildings, Gran Vía is a truly world-class high street.
The accommodation in Las Letras is suitably stylish. Many historic buildings, once the haunts of the creatives who gave their name to the area, have now become hotels.
The buildings themselves often show signs of this unplanned evolution and are not the most spacious, but the location and the views of the city center make for a considerable consolation.
Unsurprisingly, roof terraces and bars abound in this area, as it is a perfect spot to take in the expanse of Madrid's central skyline.
Hotels in Las Letras
One curiosity about Madrid is the number of attractive hotels with "Catalonia" in the title!
Where to stay in Madrid – Lavapiés
Just to the south of Barrio de Las Letras is Lavapiés (lah-vahp-YES).
A classic working-class neighborhood, Lavapiés has been saddled with a rather unglamorous image not helped by its name and nickname.
Lavapiés sounds like "wash feet" or "foot washer". One theory about the origin of the name is that due to the area's steeply sloped streets, its inhabitants would be subjected to involuntary footbaths when the rains came.
Another theory is that as the neighborhood was once home to a large fountain, locals would use the water for communal footbaths.
In more recent years, the area has seen influxes of immigrants, with some sneeringly dubbing the area Lavapiestán.
All this is totally unfair. On my first visit to Madrid, I stayed in Lavapiés. It offers a wonderful central location, a vibrant multi-faceted culture, and both high and low-budget options for accommodation.
Why stay in Lavapiés?
The mixed demographic in the area makes Lavapiés an excellent area if you are out to sample some world cuisine as well as the local specialties.
And like many "edgy" areas in major cities, Lavapiés has long been a beacon to new arrivals to the city and has an unmistakeably cool and bohemian vibe.
That means that just a short walk from El Prado and La Reina Sofía, you can find today's artists' exhibitions in all kinds of creative spaces.
For those looking to feed the body as well as the soul, El Mercado de San Fernando is one of five famous markets in El Centro.
An incredible array of fresh meat, fish, cheese, and beers is to be found.
Another major plus for visitors is that Lavapiés is very near to Atocha train station, Madrid's main station.
Rail travel in Spain is fast and punctual, and the high-speed AVE train network connects Madrid to Barcelona, Seville, Málaga, and Valencia, among other destinations.
Hotels in Lavapiés
Where to stay in Madrid – La Latina
To the west of Lavapiés is La Latina.
While still in El Centro and very much part of central Madrid, a stay in La Latina means moving away from El Prado and El Parque del Retiro, but this charming neighborhood is an attraction in itself.
Once upon a time, this neighborhood was a Moorish fort, and something of that old-world feel remains today with its labyrinthine network of narrow streets.
Why stay in Madrid's La Latina District?
While much of Madrid is grand and monumental, La Latina offers a somewhat romantic alternative, with unlikely eateries and shops hidden away in nooks on its side streets.
It attracts plenty of foot traffic, with locals and tourists alike frequenting its bars and restaurants. Tapas and beer on an outdoor terrace are the order of the day.
As well as the lure of its idiosyncratic character, La Latina has some landmarks worth visiting.
The Islamic influence in the area is evident in the San Pedro El Real church, with distinctly Moorish elements in its architecture such as its tall, minaret-like tower.
Another major house of worship in the area is the Basilica of San Francisco el Grande.
Appearing somewhat short and squat from the outside, a peek inside proves it to be the most ornate of churches, with one of the largest domes found in any church.
Its artwork includes contributions by Goya.
On Sundays, the "El Rastro", the city's largest flea market, is a sight to behold. Just about anything and everything can be found on sale, and market sellers also come in all shapes and sizes.
There is no shortage of characters around, especially if you come at the busiest time in the early afternoon.
A more sophisticated option is "El Mercado de La Cebada", just down the road from La Latina metro station. Once "The Barley Market", this building's colorful rooftops are a testament to its recent renovation.
It can be visited any day, but the weekend is often of particular interest with wine and seafood tastings on offer.
Hotels in La Latina
Posada del León de Oro is a boutique hotel in the heart of the neighborhood. It is another case of a historic building, in this case from the 19th century, being reimagined as a hotel.
The hotel's restaurant has a very elegant feature – a glass floor through which you can see the building's ancient wine cellar.
Another boutique hotel in this area is Posada del Dragón Boutique Hotel. Back in the 16th century, this building was a barn! Today it contains a four-star hotel, an onsite restaurant, and colorful, if compact, rooms.
Where to stay in Madrid – Los Austrias
As in many countries, the Spanish royal family has often been rather more international than you would expect, and Los Austrias (OW-stri-ahs) is so-called because the area evolved during the reign of the House of Habsburg in Spain.
This Austrian family gradually connected the royal villas found outside the old city of Madrid, urbanizing areas that had essentially been agricultural.
Why stay in Los Austrias?
Today, we can see the legacy of that development. The architecture in the area is arresting, with enormous squares, majestic streets, and buildings boasting extravagant balconies and elegant entrances.
El Sobrino de Botín, founded in 1725 and thought to be the oldest restaurant in the world, occupies its eternal position on Calle de Cuchilleros ("Knifemakers' Street").
Mentioned by Hemingway in The Sun Also Rises, it also offered a temporary waiting gig to Francisco de Goya as he awaited news on his application to the Royal Academy of Fine Arts.
Madrid's main square, La Plaza Mayor (PLA-tha MY-or) can also be found in Los Austrias.
A classical European plaza, the huge expanse of the square itself allows one to picture its previous incarnation as a marketplace.
Today, the buildings and archways that surround the square are almost so symmetrical as to be imposing, although this effect is leavened by the unmistakable Spanish touch of the artwork on the Casa de la Panadería.
When Madrid bid unsuccessfully for the 2020 Olympics, the then-mayor Ana Botella was mocked for inviting visitors to a "relaxing cup of café con leche" in La Plaza Mayor, but there are certainly worse ways to spend a morning.
Los Austrias is also the home of the Palacio Real de Madrid, which is the largest royal palace in Europe.
In recent years, it has been opened to the public, and while there is usually an admission fee, on certain days entrance is free.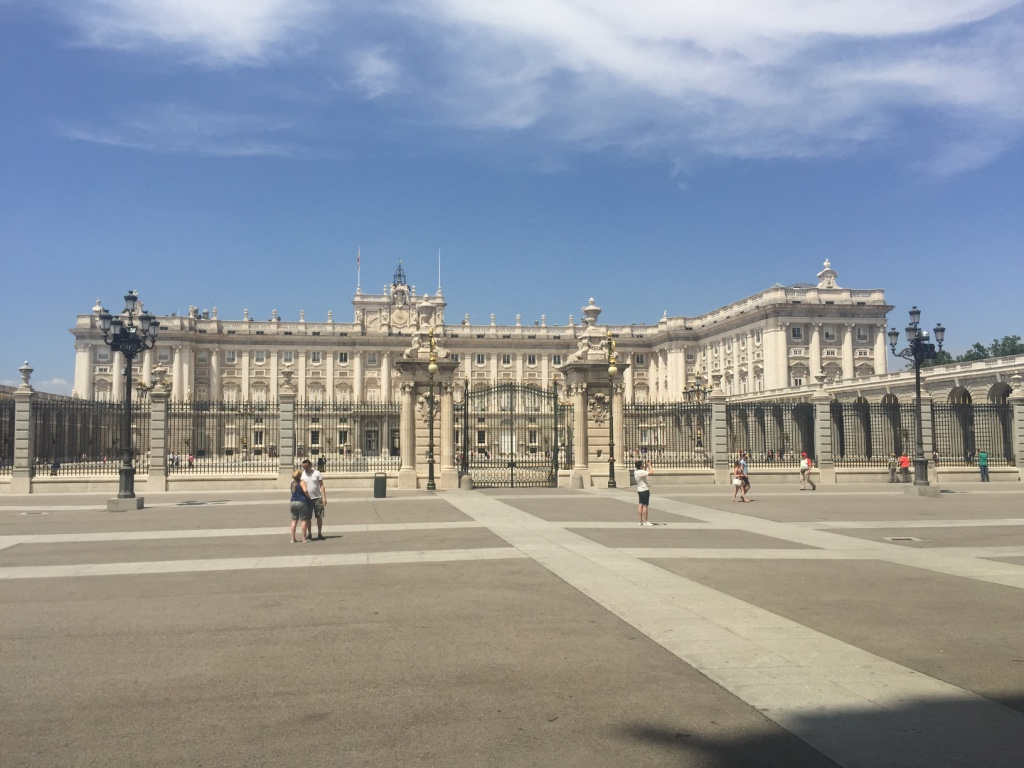 With both Sol and Ópera metro stations nearby, Los Austrias is also extremely well connected for those wishing to explore more of the city.
In terms of accommodation, as you can imagine, many hotels in the area are high-end. For those in the market for a touch of luxury, there are many options.
Hotels in Los Austrias
If you have the budget, then what better place to stay than a former royal palace?
Appropriately close to the current Palacio Real and the Teatro Real, Palacio de los Duques Gran Meliá is nothing short of sumptuous, complete with a gorgeous courtyard straight out of a period drama.
But then, that's the kind of ambiance you expect from a Leading Hotels of the World property.
The light and spacious air-conditioned rooms in the contemporary apartments of Eric Vökel Boutique Apartments are enough reason to stay in the central location.
But if you add the private rooftop terraces or balconies with city views, this is a relaxing stay, especially if you're staying a week or more.
If you would rather stay in the same area for a fraction of the price, Hostal Oriente is a three-star option for budget travelers.
From the outside the building is unprepossessing, but its rooms are tidy and attractive. They offer single or double private rooms with a private bathroom.
Where to stay in Madrid – Salamanca
Another upmarket option for a stay in Madrid would be Salamanca.
Just north of El Retiro Park, Salamanca is favored by Madrid's rich and beautiful.
Why stay in Salamanca?
Opportunities for upscale shopping are abundant. Gucci, Dior, and Chanel can be found almost side by side on Calle de José Ortega y Gasset.
Prada has its base on Calle de Serrano, which is also the home of Longchamp and Miu Miu.
For those looking for a bargain (relatively speaking), there are also designer outlet shops such as Designer Exchange in the area.
As well as the uber-famous international brands, many high-end Spanish brands can be found in Salamanca.
But it's not just shopping that makes Salamanca a place of interest.
The barrio is also home to MAN, Spain's national archaeology museum, as well as the national library, two impressive classical buildings in Plaza de Colón (Columbus Square), perhaps the city's most grandiose square.
With a 17m high statue of Columbus, the statues dotting the Jardines del Descrubrimiento, and an enormous Spanish flag, the square is a photo opportunity waiting to happen.
For culture of a different sort, Salamanca is also where you find Santiago Bernabéu Stadium, home of Real Madrid.
The stadium has been totally revamped in recent years.
Such was the extent of the work that the team actually played their 2019-20 home matches in the tiny Alfredo di Stéfano Stadium, usually used by reserves and youth teams.
Work is still not finished, but tours are available for what is now an über-modern football cathedral.
Hotels in Salamanca are, as you would expect given the cachet of some of the local shops, on the pricy side.
Hotels in Salamanca
One of the best luxury hotels in the area is the Barceló Emperatriz. This five-star hotel has an amazing location, an elegant bar and restaurant, and a lovely rooftop pool.
The air-conditioned rooms have hardwood floors, enormous flatscreen TVs, and bathtubs.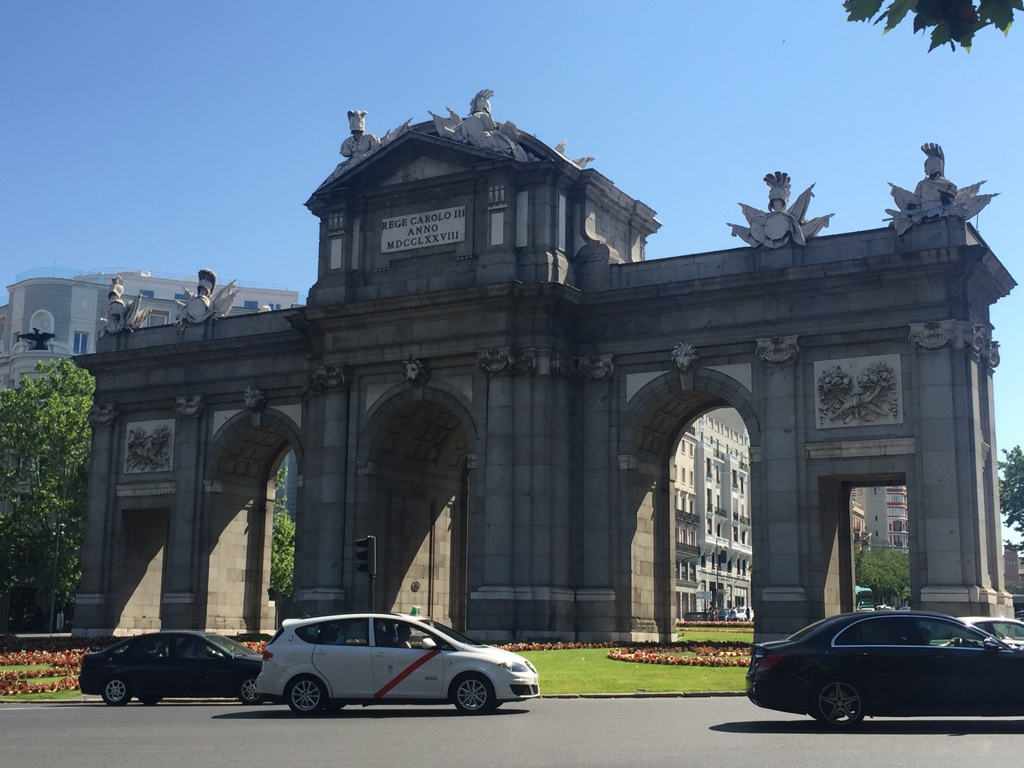 Opposite the Marble Arch-like structure that gives it its name, Hospes Puerta de Alcalá is an elegant, luxurious destination.
From its plush reception to its luxurious spa, it screams class from the very first moment.
Seen from the outside, VP Jardin de Recoletos looks like a standard high-end city hotel.
Behind that façade is a lovely garden area, perfect for when you want a little breather from the city.
And although the hotel has a restaurant, the rooms here are fitted with kitchenettes, meaning you have the opportunity to sample any of the goodies you snapped up in Madrid's mercados!
Keep Planning Your Trip to Madrid